Highlights:
Visual observations on approximately 1,104 metres of drilling completed across 7 holes
The targeted Genex mineralization has been intercepted in all holes drilled to date ranging in width from 3 to 64.2 metres
Semi and massive polymetallic mineralization intervals were observed in wide disseminated halos
As a result of strong visuals, the program has been expanded to 4,000 metres
Timmins, Ontario. Melkior Resources Inc. ("Melkior" or the "Company") (TSXV:MKR) (OTC:MKRIF) is pleased to provide a visual update from its drill program currently underway at Genex, which kicked off in early October. On April 21st, 2022, the Company announced an option agreement for the Genex Project to earn 100% over 7 years from International Explorers & Prospectors Inc (see news release dated April 21, 2022). The Genex Project is a gold-copper polymetallic VMS exploration target with significant near-term resource potential.
Figure 1: GEN-22-01,03,04&07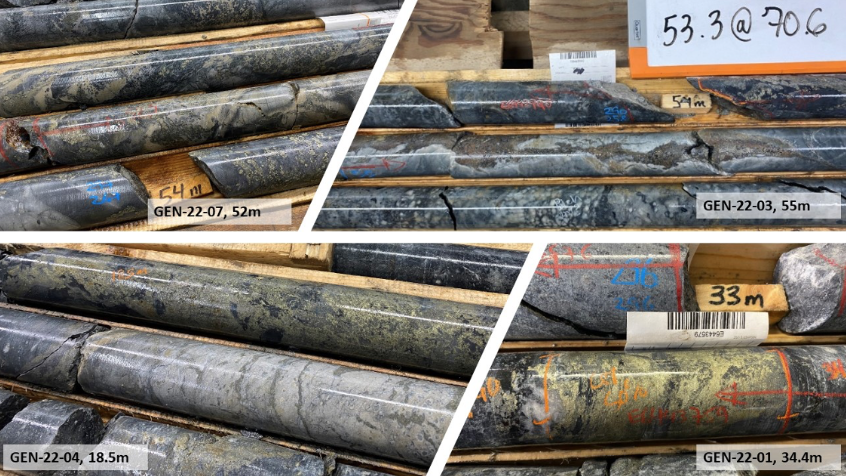 *The photos are of selected intervals and are not necessarily indicative of the mineralization hosted within the entirety of the drill holes
From these first visuals released, 6 holes returned at least one interval over 10 metres hosting disseminated chalcopyrite, pyrite-sphalerite and/or pyrite. From that, 2 holes host massive or semi-massive metric intervals embedded in the disseminated sulfide envelope. Hole GEN-22-01 delivered two semi-massive to massive chalcopyrite stringers crosscut over metric intervals. Disseminated polymetallic sulfides were observed over two intervals with lengths of 17 and 28 metres starting from surface.
In the series of holes described, the base metal mineralization identified so far exhibits varying shapes and textures: sulfide-rich stringers, replacement zones, infiltration and dissemination in the porosity of volcanic breccia. Different generations of sulfide-bearing quartz and carbonate veins are locally included in mineralized envelopes. The polymetallic mineralization is generally hosted in brecciated carbonatized mafic to intermediate volcanic flows altered by chloritization and silicification.
Drilling
The 7 holes total 1,104 metres with lengths varying between 75 and 220 metres located at the margin of the composite grade shell modelled using Leapfrog software (see news release dated October 27, 2022 for technical information). The program aims at testing the continuity of base metals and gold mineralization around the historical Genex Mine. As shown in Figure 2, holes GEN-22-01, GEN-22-04 and GEN-22-05 were planned to test the immediate extension to the east of the mineralization following trends indicated by historical underground workings. Drilling was located between 20 and 50 metres from historical drilling. Holes GEN-22-02 and GEN-22-03 targeted the Genex south-western extension, where historical drilling had identified copper-gold mineralization between 100 and 150 meters vertically and about 100 meters from underground infrastructures. In addition, holes GEN-22-06 and GEN-22-07 were designed to target the southward extension of the Genex system within a 50-meter range.
Visual Intercept Highlights:
*The following observations were made as indications of the Genex Au-Cu Zone, but they are by no means correlated with gold, copper, zinc or silver grades at this stage.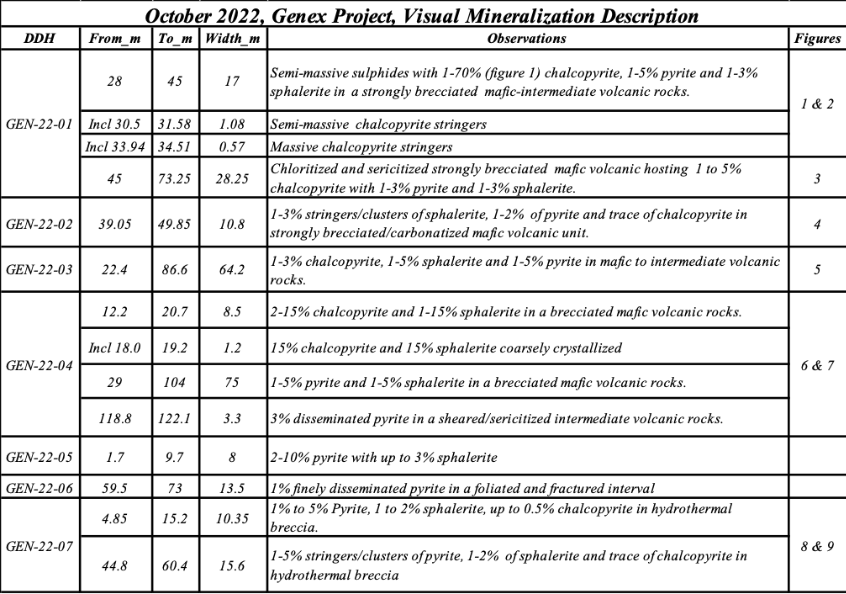 For a full list of figures please refer to this link.
Figure 2: Phase 1 drilling angled long view looking NW