| Property | Operator | Location | Stage | Metal | Terms |
| --- | --- | --- | --- | --- | --- |
| Joubi | Agnico Eagle | Dubuisson Township Of Quebec | Exploration | Au | 1% NSR |
| Launay | O3 Mining (Osisko) | Launay Township of Quebec | Exploration | AU | 1.5% NSR (0.75% Buyback for $750k) |
| Souart | Osisko Metals | Souart Township of Quebec | Exploration | AU | 0.27% NSR |
The Joubi royalty is next to Agnico Eagle's Goldex mine which produced 121,167 oz's of gold in 2018. Exploration acitivity on the entire Joubi property is expected in 2019 to be $0.9 million on 6,000 metres of exploration drilling by Agnico Eagle. The Joubi claims were sold to Agnico Eagle by Wesdome on June 9, 2019. These claims were included along with the Dubuisson Ouest and a portion of the Mine Ecole property for the purchase price of $7 Million. Melkior Resources has a 1% NSR on 15 mining clams: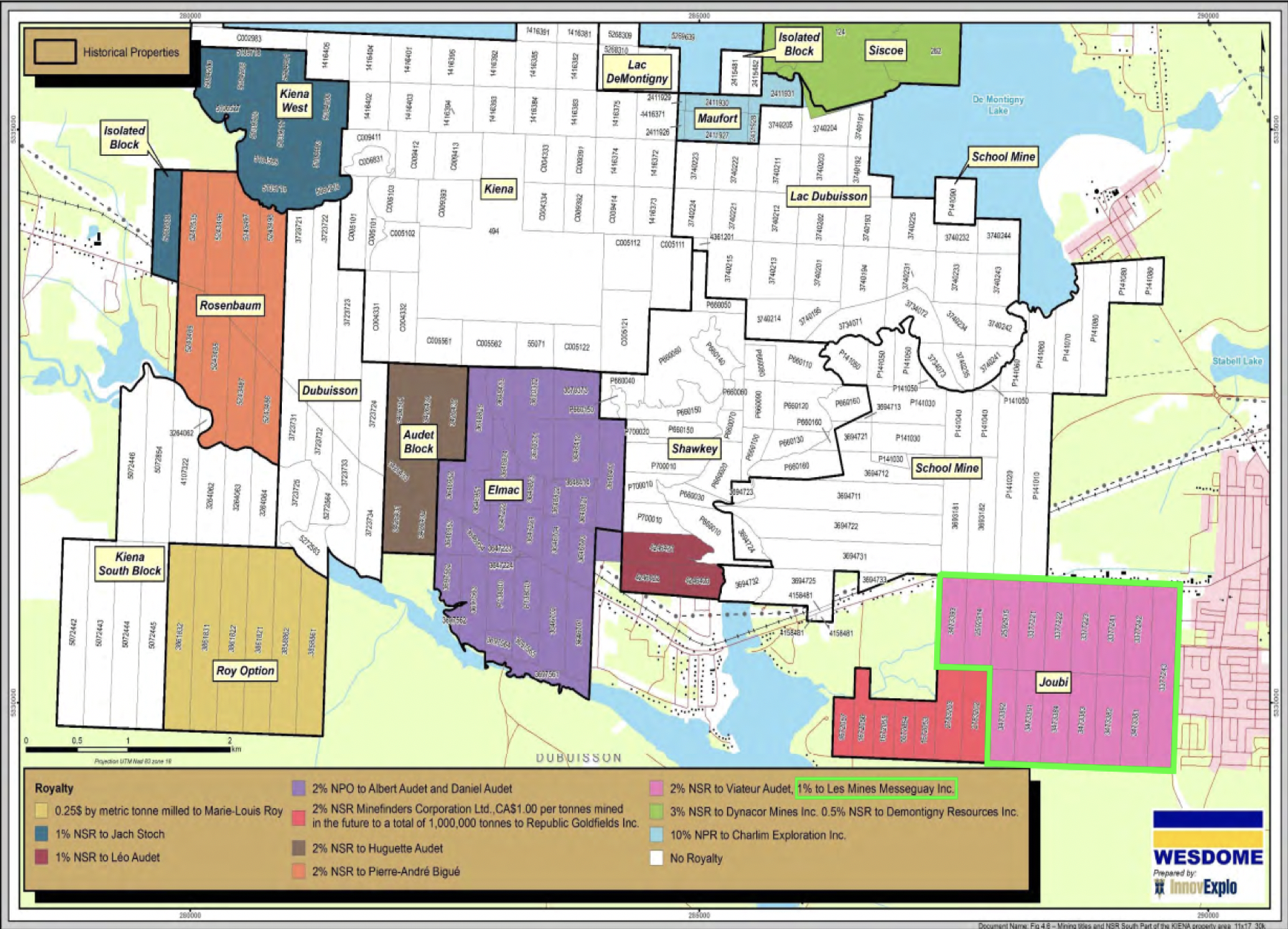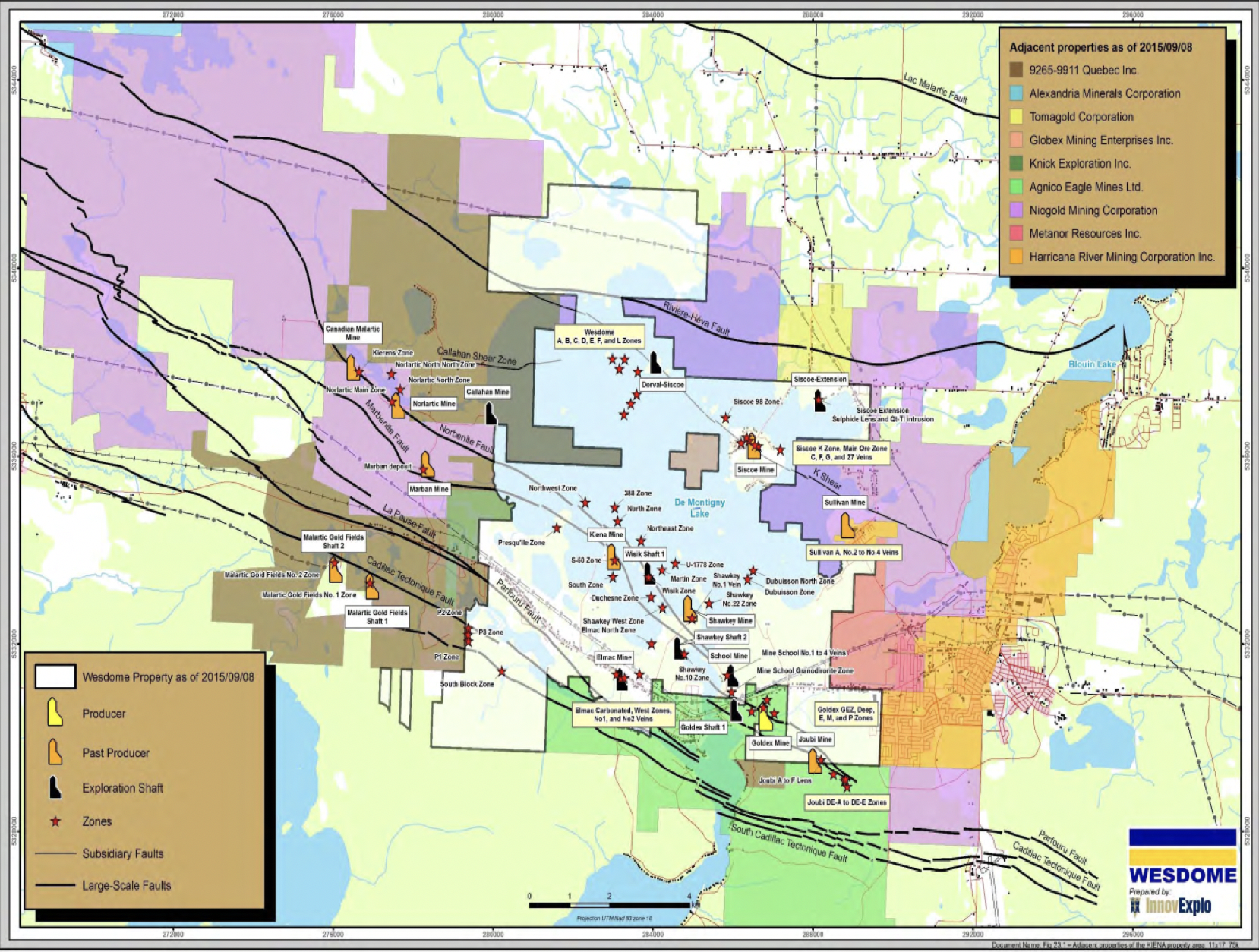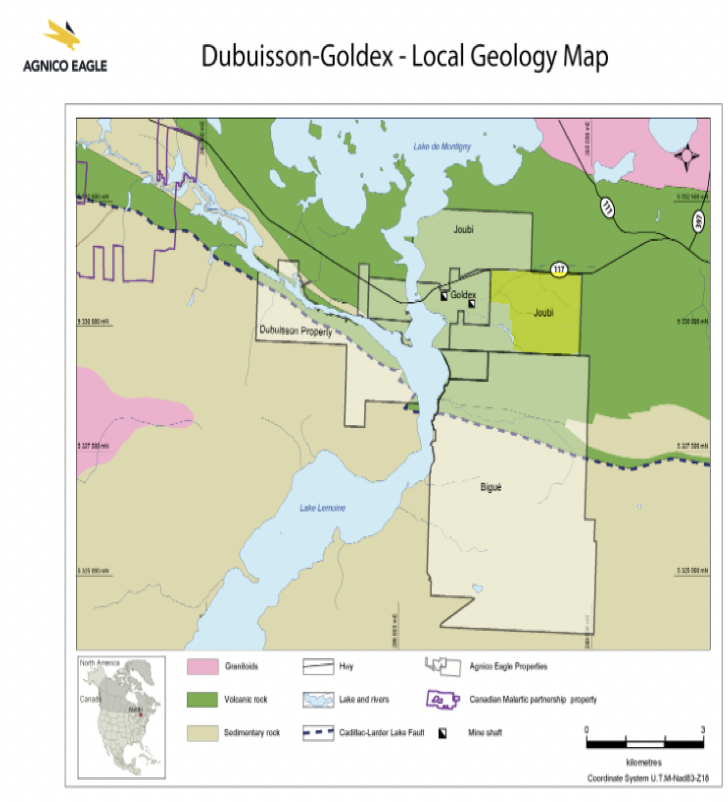 Melkior has a 1.5% NSR on the Launay Property owned by O3 Mining. The Property is located in Launay township, in the Abitibi Greenstone Belt in Quebec. Several gold zones have been defined by historical work over a 3 kilometre trend on the property. In 2013, a drill program on one of these zones identified wide intersections of gold mineralization located near surface:
92 g/t gold over 13.40 metres in hole LAY-15-2013
20 g/t Gold over 10.50 metres in hole LAY-20-2013
04 g/t gold over 15.52 metres in hole LAY-21-2013
The gold zones are coincident with a north-south striking magnetic axis dipping to the west between 65 to 80 degrees. The mineralization consists of auriferous pyrite grains disseminated in an altered granitic intrusive and within quartz-carbonate veins.
Drilling to date has focused on the near surface portion of the property with very few holes attaining depths greater than 300 metres. Mineralization remains open at depth and along strike. Additional drilling will be required at depth and between the known gold zones to determine the true extent of the mineralization.
Infrastructure is excellent, with both a highway and railway crossing the property. Electricity is also readily available with several towns located within a 30 kilometre radius. At least five operating gold mills are located within 70 kilometres of the Property.
The royalty (0.27% NSR) was earned following the agreement signed between Messeguay Mines Inc. and Ressources Unifiées Oasis Inc. on February 12, 1991. This agreement refers to an earlier agreement dated February 23, 1983.
Messeguay Mines Inc. became Melkior Resources Inc. The interests of Ressources Unifiées Oasis Inc. were transferred to Glen Eagle Resources Inc.
On April 19, 2012, Glen Eagle Resources Inc signed an agreement Multi-Ressources Boréal, for the sale of 75% interest in the Barry Souart Gold property for an upfront cash payment of $300,000. Glen Eagle Resources Inc received a 1% royalty NSR that could be repurchased for $1 million.
On November 5, 2014, the Glen Eagle Resources Inc agreed to sell the remaining 25% and 1% NSR of Souart for a total consideration of $150,000.
On February 3, 2016 the Souart projects was purchased by Oban Mining Corporation (now Osisko Mining).